Advanced CMOS Chip: The DEPSTECH endoscope adopts a premium smart camera chip, which ensures clearer and smoother image transmission without lag. 1080p HD camera with Bluart 2.0 tech offers up to 2-million active pixels, providing you with a crystal clear view experience while inspection
3.9mm Super Slim Lens: The latest 0.15" diameter borescope has a wide enough field of view and can easily maneuver into the target position for nondestructive detection even in extremely tight space. Widely used for pipeline fixing, mechanical equipment repair, inside wall checking, car cylinder, engine, and other devices inspection.
Endoscope Camera with Light: Made of a high-quality pure copper wire core, the flexible semi-rigid cable enhanced the stability of WiFi signal, and solved the problem of connection interruption. IP67 waterproof borescope camera and six adjustable LED lights to ensure clear images in dark conditions
WiFi Connection & Easy to Use: The wireless endoscope built its own WiFi network, it can be used anywhere. Works well with iPhone, iPad, and Android devices. Download the App "DEPSTECH-View", then connect to your phone via endoscope's WiFi to start using
The Slimmest Industrial Endoscope on the Market
The scope camera is a professional inspection camera for daily checking, repair, and maintenance of mechanical parts. Widely used for areas that cannot be observed by naked eyes, such as automotive engines, cylinders, rifles, HVAC inspection, and other hard-to-reach areas.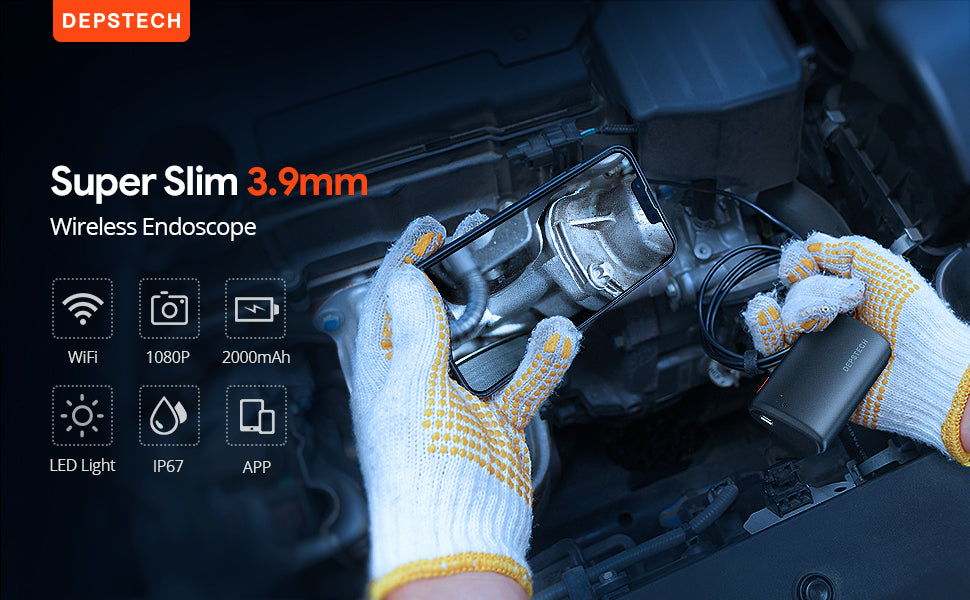 Perfect Gadget for Nondestructive Detection without Disassembly Equipment
3.9mm slim probe is able to reach narrow spaces easily for nondestructive detection without disassembly equipment. Waterproof endoscope camera probe design and equipped with bright LED light, perfect for inspecting underwater areas. It is not only a useful automotive tool but also an ideal tool for plumbing applications.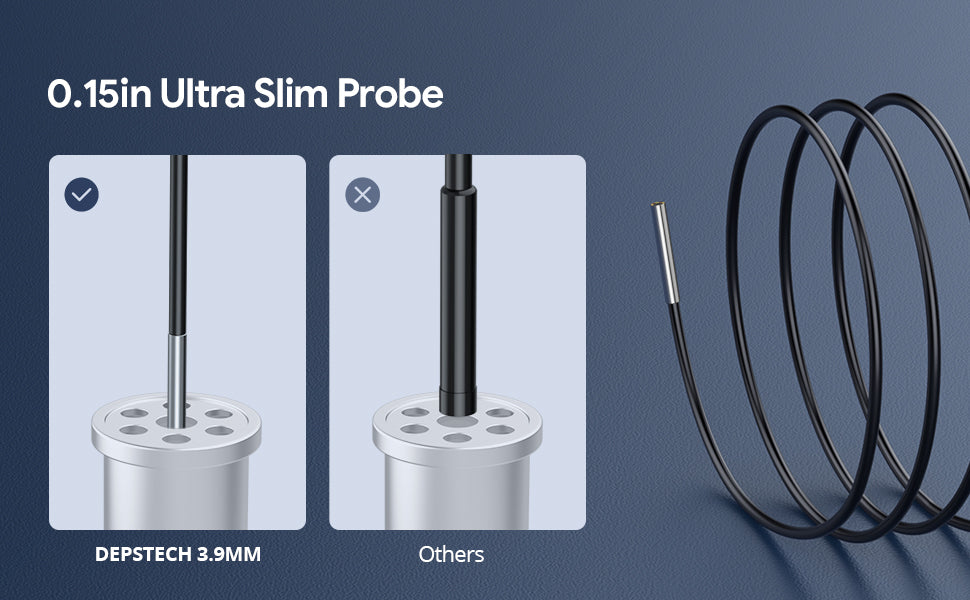 How to Connect the DEPSTECH App
This drain camera creates its own WiFi Signal and build-in a rechargeable battery. Download and install the "DEPSTECH-View" App on your smartphone and connect to the endoscope's WiFi, the real-time image will show up on your screen immediately.

Specification
Probe Diameter

0.15in / 3.9mm

Resolution

1920*1080

Connectivity Technology

Built-in WiFi

Light

6 Adjustable LED Lights

Cable Type 

Semi-rigid Cable

Extended Length

WF070-1.5M: 4.92ft / 1.5m

WF070-3.5M: 11.5ft / 3.5m

Color

Black

Best Focal Distance

1.18-3.15in / 3-8cm

Upper-Temperature Rating

113°F / 45°C

Lower-Temperature Rating

32°F / 0°C

Waterproof
IP67
Battery Capacity
2000mAh
Battery Type

Rechargeable Battery

Compatible Devices

iPhone, iPad, and Android devices

Package List

1*Wireless Endoscope with Semi-rigid Cable, 1*USB Charging Cable, User Manual